360-degree filming is a cost-effective and time-efficient way to create virtual reality content. Viewing a 360-degree video through VR glasses can be a very engaging experience since the film material is more convincing than animation to show real people and places. Thus, the viewer has the impression that he himself is present in the film together with characters present there.
A 360-degree camera is required to capture 360-degree content, although other solutions are possible – single-camera panorama, photogrammetry, volumetric recording, etc. Professional 360-degree cameras usually consist of more than one camera, those images are then integrated into one whole spherical image during the post-production process called stitching. These spherical video files can then be processed further with the traditional video editing software (Adobe Premiere, After Effects) – files can be edited, text, effects, color corrections can be added, etc. A substantial part of the VR experience and atmosphere is also provided by professionally implemented sound design.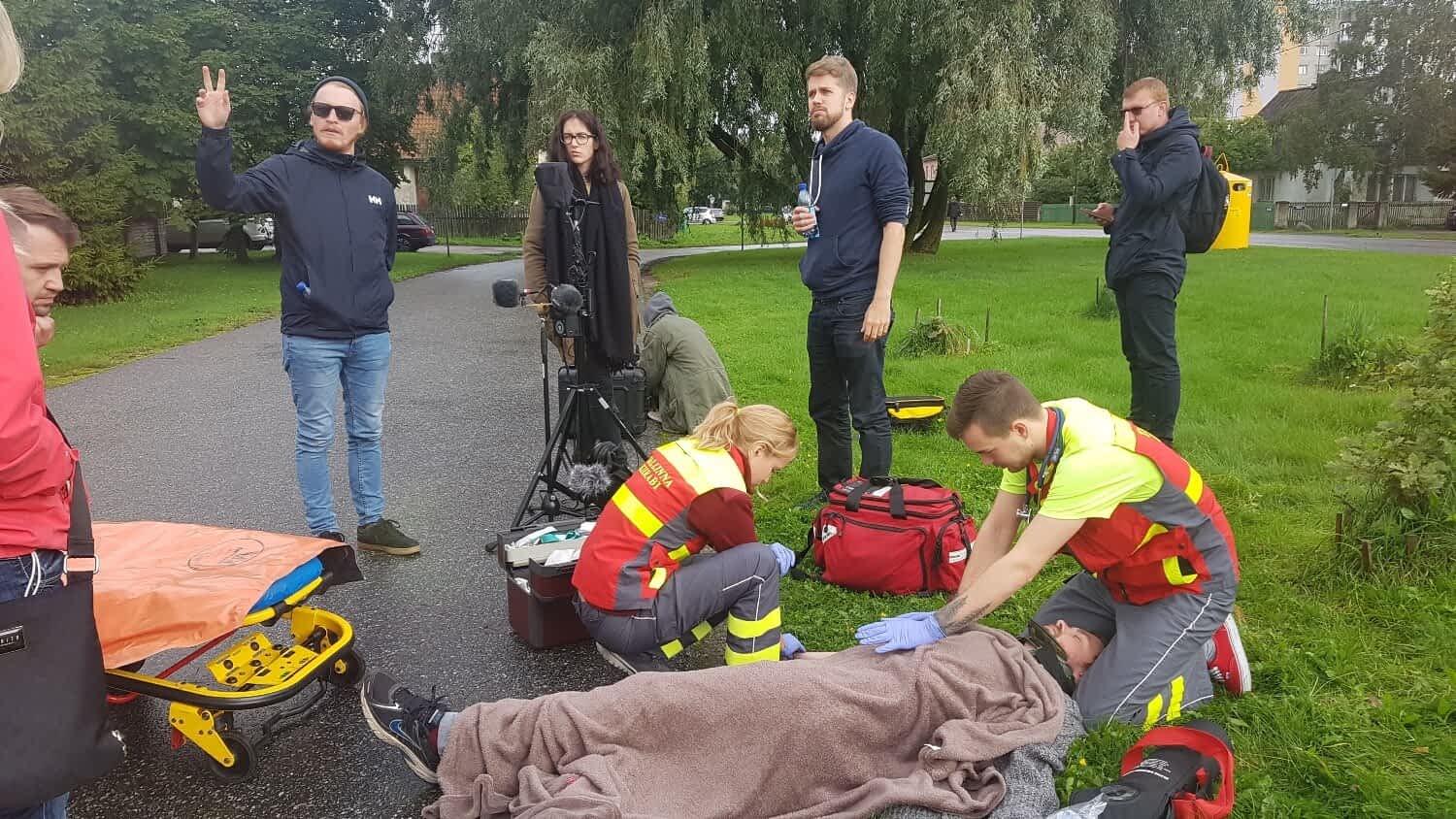 360 Degree Filming with GoPro Omni camera. On the shooting site, there is a VR director, an operator, a makeup artist, an artist and an audio operator, along with the actors.
This photo is made during the preparation. During the actual shooting the team will be hiding behind trees.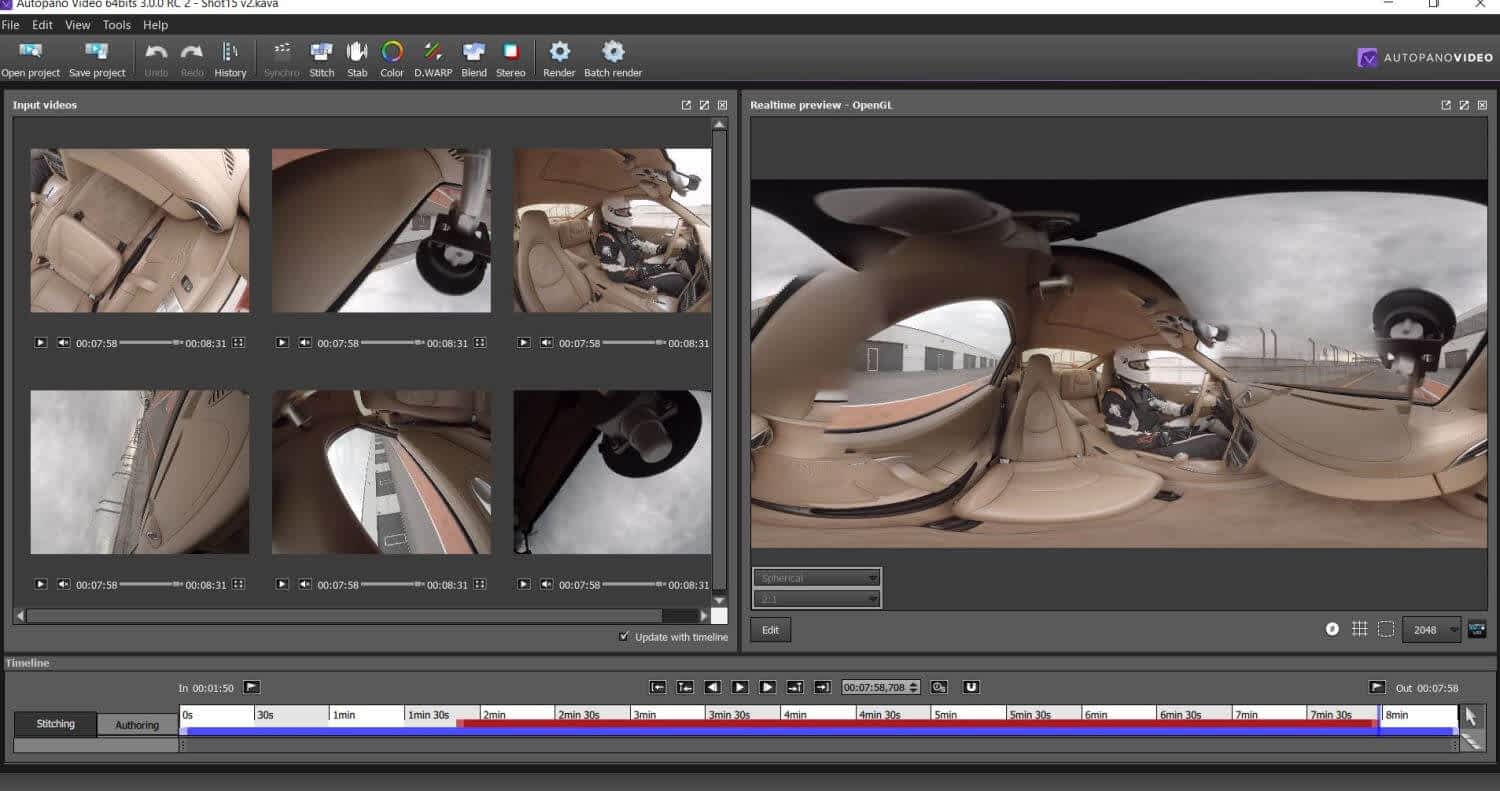 Stitching of the 360-degree material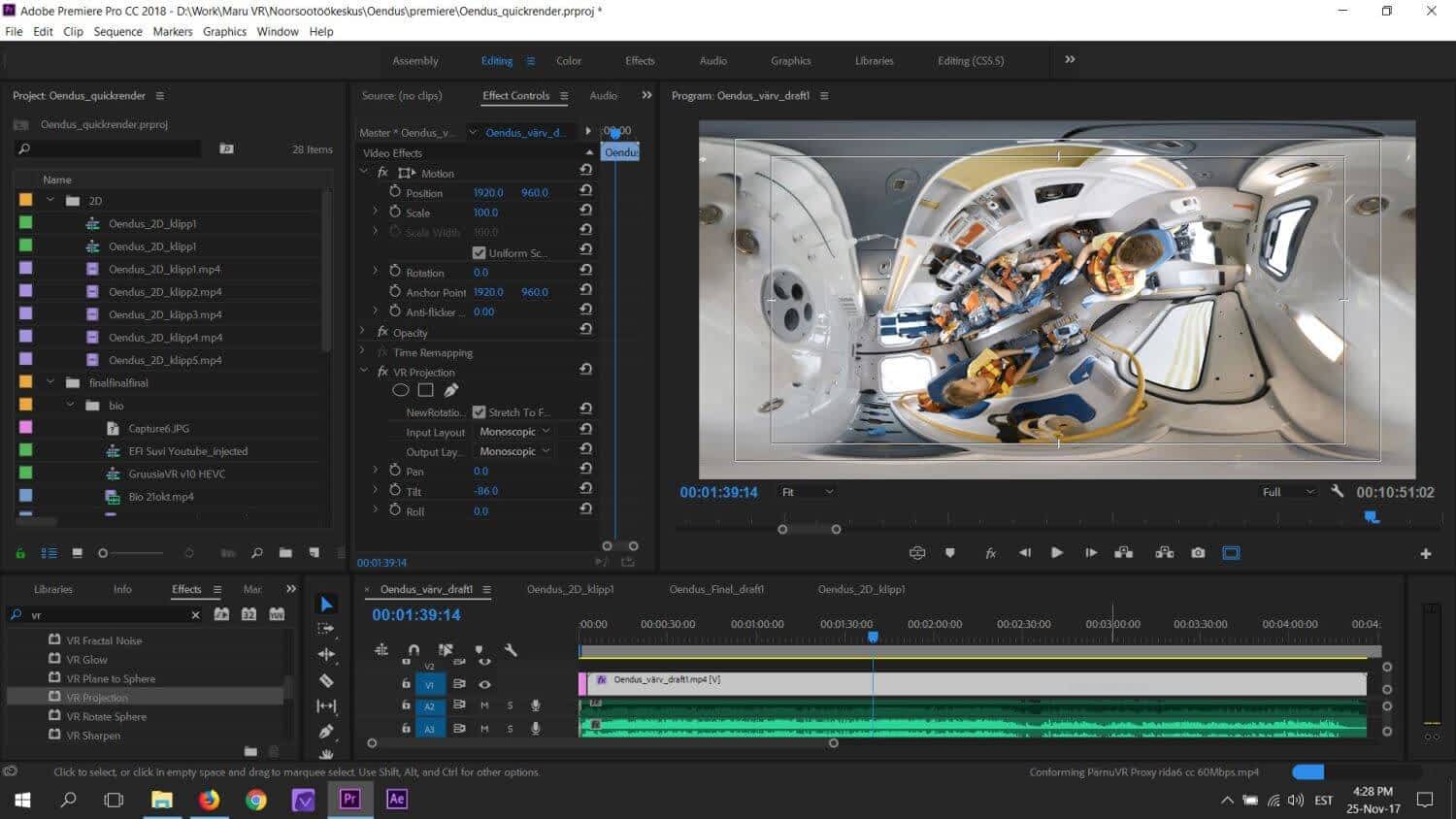 360-degree video cutting and video editing with Adobe Premiere and After Effects software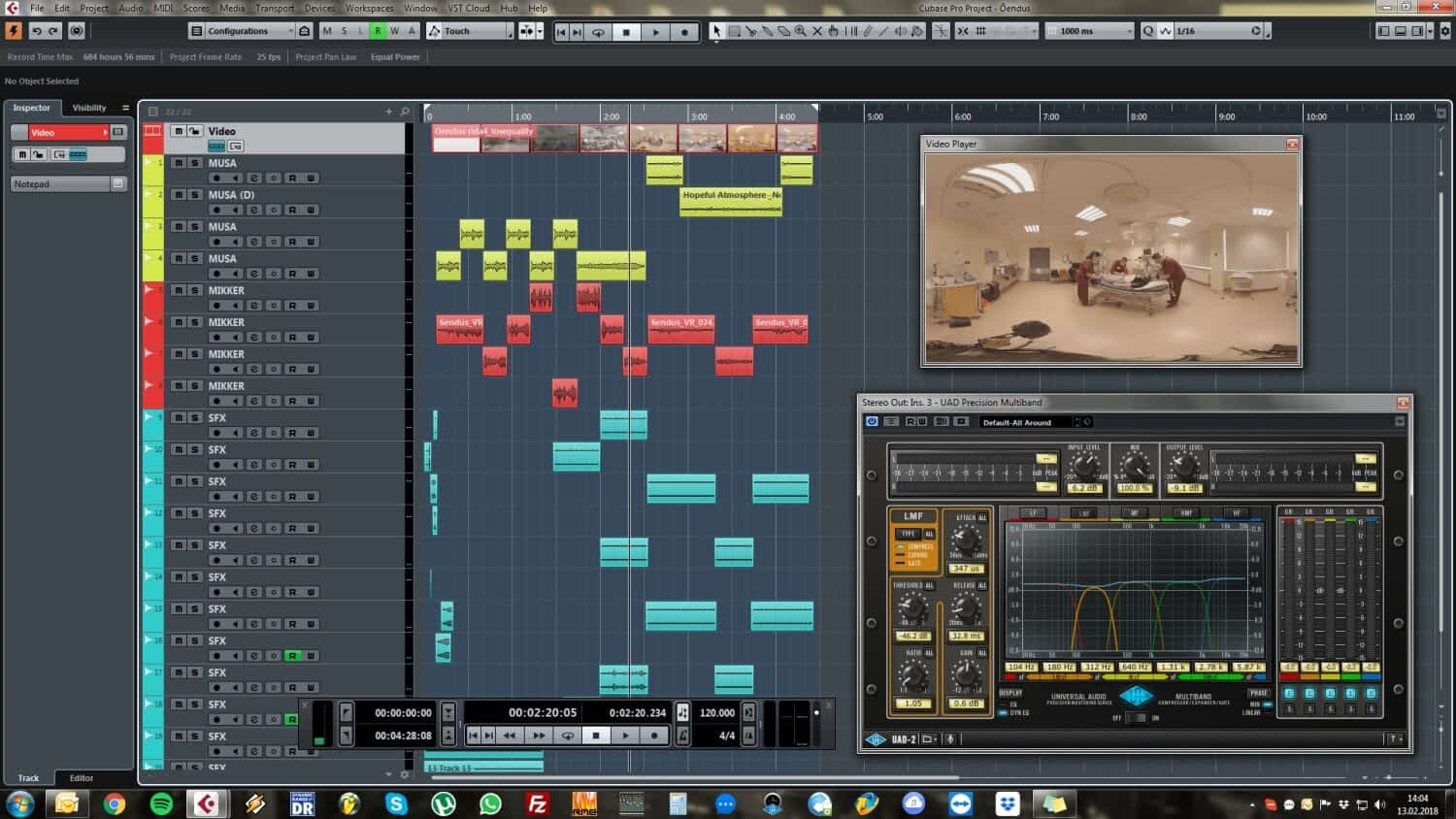 360-degree video sound design with Cubase Pro 9.5 software

360-degree video color correction with Adobe Premiere and Davinci Resolve software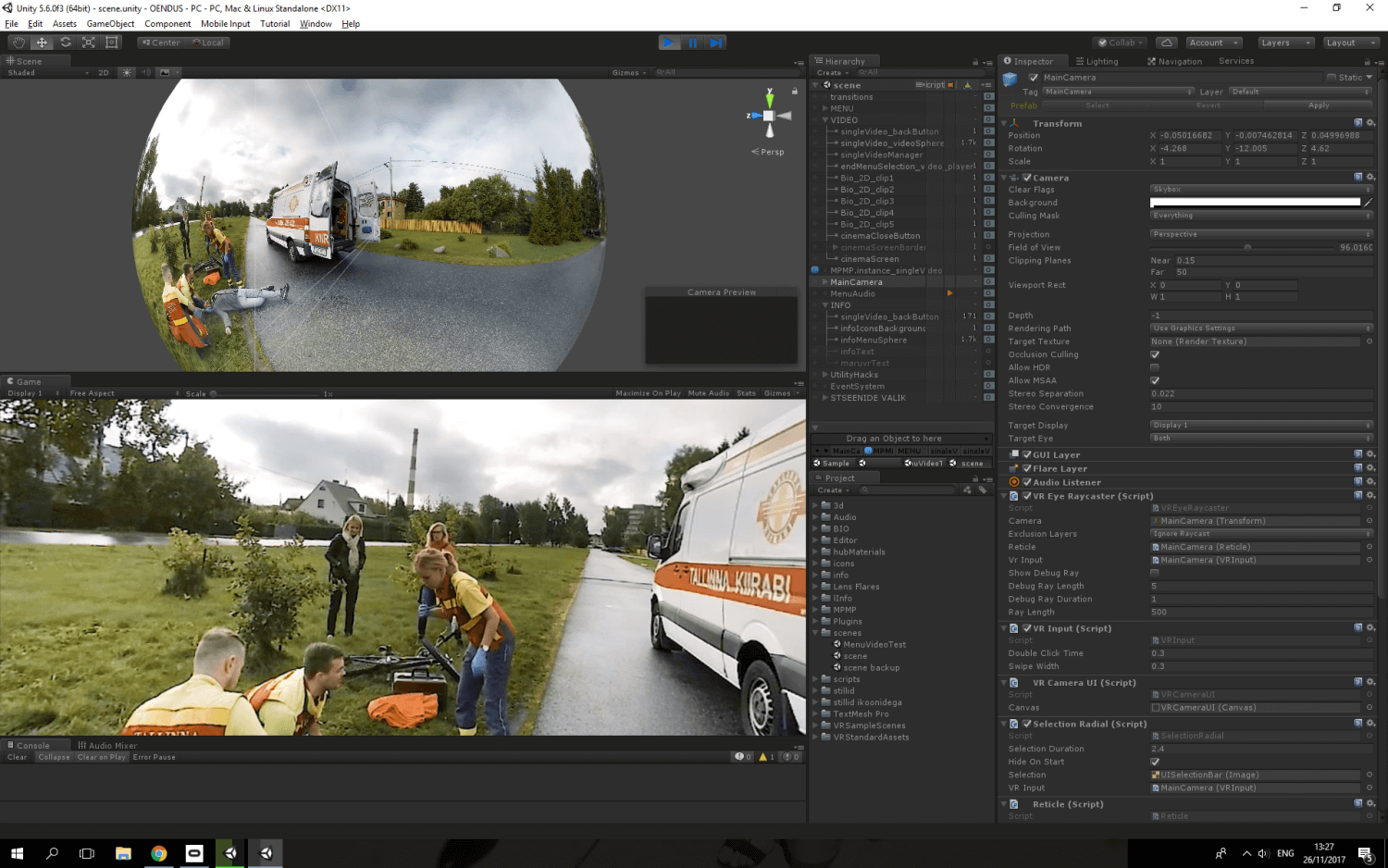 Development of VR application and interactivity on Unity's game development platform
Challanges for the creation of a 360-degree VR video
360-degree filming is not only technically challenging, but it also offers challenges at the shooting site. Since the camera can see all the directions, the team must hide itself and the equipment. The shooting locations need to be selected differently so that the final scene would look presentable in every direction. Camera movement is possible, but it must be taken into account that for some viewers it can cause nausea – in the VR, not only the angle of view but the entire world changes.
With the VR head mounted device, the viewer sees only one segment of the video surrounding him. For that reason , the 360-degree film requires a very high resolution, with the minimum of 4K quality. When it comes to creating VR video content, it's common that the work is performed at the maximum technical limit of the cameras, the software and the VR devices playing the video. This requires a professional post-production process so that quality is not lost during the editing process.
To start a VR video, we recommend using a custom application
As the launch of a 360-degree video file on the VR headset is still a new world for a regular customer, Maru VR Productions generally provides the final result in the form of a unique application (app) or program that is made on the Unity or Unreal game development platform. This allows VR content to be viewed comfortably and with high quality. There are many other benefits of combining the video and computer game world: subtitles, smooth transitioning between 2D and 360 videos, interactive narratives – opportunities are endless. Maru VR gives advice at every stage and delivers a project that takes maximum advantage of VR capabilities.